Strategies to Improve Hazardous Waste Management at the Faculty of Engineering Vitoria-Gasteiz UPV/EHU
Abstract
Universities, considered as agents of social change, are essential for providing knowledge, innovations and solutions to the community, in order to nurture future leaders towards sustainable development. Therefore, universities are uniquely positioned to assist with implementing the 17 Sustainable Development Goals (SDG) and 169 targets to promote economic prosperity, social inclusion and environmental sustainability. In this context, the University of the Basque Country (UPV/EHU), with the initiative Campus Bizia Lab Programme (CBL), sees the SDG as a route map to bring the work of the university community (academic staff, service and administrative staff, and students) into line the major challenges facing the planet and people. As the production of hazardous waste (HW) has grown exponentially in recent years at the UPV/EHU, becoming an environmental problem of our time, the objective of this work, which is within the CBL, is to analyse the current HW management system at the Faculty of Engineering Vitoria-Gasteiz UPV/EHU and to develop strategies to minimize them and reduce the costs associated with their management. To this end, the data collected over the period 2013-2018 have been analyzed and different strategies have been proposed according to the 28 good practices stablished by the UPV/EHU.
Keywords: Environment, Sustainability, Sustainability Development Goals, University Community, Hazardous Waste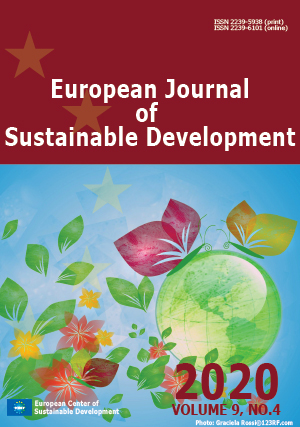 Downloads
How to Cite
Saralegi, A. ., Rojo, N. ., Alvarez, J. ., Encinas, L. ., & Amurrio, J. . (2020). Strategies to Improve Hazardous Waste Management at the Faculty of Engineering Vitoria-Gasteiz UPV/EHU. European Journal of Sustainable Development, 9(4), 22. https://doi.org/10.14207/ejsd.2020.v9n4p22
License
This work is licensed under a Creative Commons Attribution-NonCommercial 4.0 International License.