Acceptance of the Abolition of New Year's Eve Fireworks: A Theoretical and Empirical Analysis under the Aspect of Sustainability
Abstract
Actually, discussions about a prohibition of fireworks are becoming more and more fluent. This topic is discussed in this paper in an empirically comprehensible manner, including sustainability aspects. The aim of the paper is to determine to what extent fireworks are harmful to people and the environment and under what circumstances citizens are prepared to dispense New Year's Eve fireworks. At the same time, it is unclear who is responsible for these issues. Politics are often blamed for solving problems like this, especially when there is no clear opinion in society. On the other hand, political intervention is in clear conflict with the free market economy and the independent economic actions of individuals. The study is based on a survey carried out in the city of Schwäbisch Hall. A valid database was created to achieve trustful data. The definition of concrete recommendations for action that can be applied in Schwäbisch Hall is another result of this paper.
Keywords: Fireworks, sustainability, theoretical analysis, empirical analysis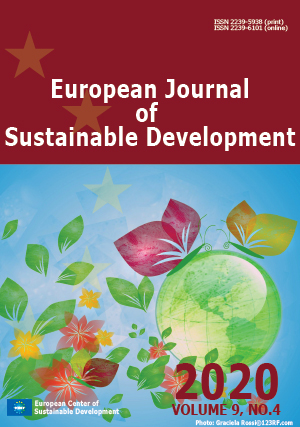 Downloads
How to Cite
Wellbrock, W. ., Ludin, D. ., Müller, E. ., Weiß, M. ., Zeh, M. ., & Gerstlberger, W. . (2020). Acceptance of the Abolition of New Year's Eve Fireworks: A Theoretical and Empirical Analysis under the Aspect of Sustainability. European Journal of Sustainable Development, 9(4), 59. https://doi.org/10.14207/ejsd.2020.v9n4p59
License
This work is licensed under a Creative Commons Attribution-NonCommercial 4.0 International License.