Education for Sustainable Development (ESD) in China's Local Primary Schools: A Pilot Study
Abstract
This study discusses the current status of ESD implementation in three primary schools and examines factors that have impacted the implementation of ESD in a district of an urban Chinese cities. Semi-structured interviews were conducted with three primary school principals and three school teachers. Thematic analysis was used to analyze the data. Three themes emerged that have impacted ESD implementation in this pilot study are discussed: the definition of ESD, lack of local education support, and exam pressures. The results suggested that ESD is underdeveloped in the selected context of urban China. Further investigation is required to capture the whole scope of ESD implementations in China's primary education.
 Keywords: Education for Sustainable Development; Primary Education; Case Study; Teacher and Principal; China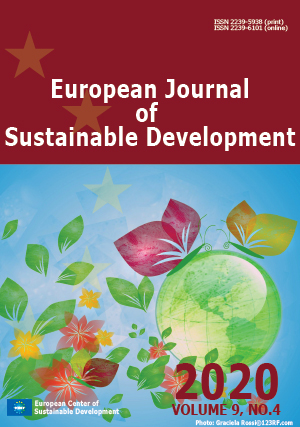 Downloads
How to Cite
Zhou, R. (Kevin). (2020). Education for Sustainable Development (ESD) in China's Local Primary Schools: A Pilot Study. European Journal of Sustainable Development, 9(4), 118. https://doi.org/10.14207/ejsd.2020.v9n4p118
License
This work is licensed under a Creative Commons Attribution-NonCommercial 4.0 International License.