Economic-Ecological Analysis of Sustainable Development in Romania
Abstract
The intense industrial exploitation of resources and the continuous degradation of the environment have determined an ecological crisis of care requires a sustainable strategy. The concept of sustainable development permanently determines or re-evaluates the connection between man and nature and is committed to solidarity between the generations as a single viable option for long lung growth. In the article, the theme of the long-term impact in the world terms on the processes developed in Romania is presented and analyzed, a necessary passage for a sustainable economic growth, but there is an existing resource and the possibility to stimulate and capitalize on an economic factor in this the transition to this new stage of use.
Keywords: sustainable development, strategies, ecological, perspectives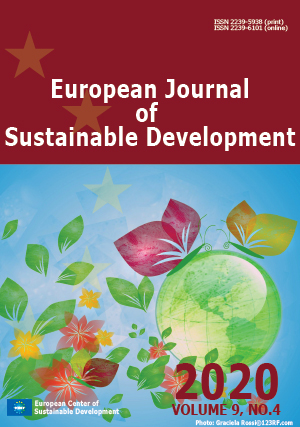 Downloads
How to Cite
Sarbu, R. ., Niculescu, A. M. ., Buzoianu, O. A. C. ., & Gombos, S. P. . (2020). Economic-Ecological Analysis of Sustainable Development in Romania. European Journal of Sustainable Development, 9(4), 161. https://doi.org/10.14207/ejsd.2020.v9n4p161
License
This work is licensed under a Creative Commons Attribution-NonCommercial 4.0 International License.