Legal Culture as a Condition for Sustainable Development of Ukrainian Society
Abstract
At the beginning of the 21st century mankind was confronted with such global challenges in various spheres of life as environmental problems, starvation and impoverishment of the majority of the world population, degradation of morality, increasing regional and interethnic conflicts, terrorism and others. The idea of sustainable development is the answer to these challenges today. Legal culture is one of the conditions for sustainable development of Ukrainian society. It allows to rethink the role and importance of state and legal institutions for ensuring sustainable development both at the ordinary and scientific level. This role is revealed by the tasks performed by the legal culture. The formation of the philosophy of sustainable development of the population, an understanding of the values and needs of stakeholders, the involvement of individuals in the system of legal values, and legal support for all activities aimed at achieving the sustainable development goals defined in the final document of the UN Summit on Sustainable Development "Transforming our World: The 2030 Agenda for Sustainable Development" are among them. Carrying out legal socialization of various subjects of public life, developing an appropriate legal position for them will allow achieving social justice, building the foundations of inclusive development, ensuring the rule of law, eradicating corruption and restoring confidence in the state and its institutions, strengthening social cohesion, ensuring the interaction of state bodies with the public and self-organizing activities of citizens.
Keywords: sustainable development, legal culture, consciousness, life position, social orientation, consciousness, life position, social orientation, legal values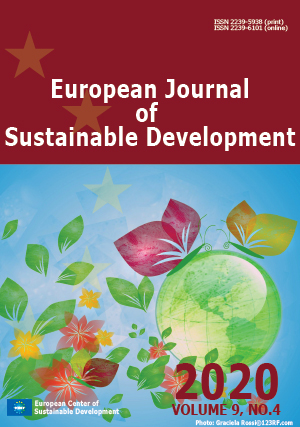 Downloads
How to Cite
Kachur, V. ., Khomiachenko, S. ., Moriak-Protopopova, K. ., & Protosavitska, L. . (2020). Legal Culture as a Condition for Sustainable Development of Ukrainian Society. European Journal of Sustainable Development, 9(4), 211. https://doi.org/10.14207/ejsd.2020.v9n4p211
License
This work is licensed under a Creative Commons Attribution-NonCommercial 4.0 International License.