Scaling the Mental Health Literacy Amongst Undergraduate Students: A Road Towards Sustainable Development
Abstract
Thesis Statement: In spite of being globally prevalent, mental illness faces apathy from the community as well as policymakers and is a point of grave social concern. Health—including mental health—and education are an imperative precondition of achieving the Sustainable Development Goals (SDGs). Education plays a crucial role in inculcating a positive attitude towards mental illness hence high mental health literacy would benefit the society at large. The present research aims to decipher the knowledge and attitude of undergraduate college students towards mental illness. Method: Students of medicine, law and engineering from different colleges in Delhi, India were cross-sectionally surveyed to fathom their attitudinal differences towards mental illness using the CAMI Scale. Results: An affirmative response was observed on Benevolence as well as Community Mental Health Ideology Sub-Scales and a dissenting opinion was identified on the Authoritarian and Social Restrictive Sub-Scales, howbeit significant differences were discerned on the basis of faculty of education. Conclusions and Implications: Results suggested that to accomplish the aspirations of the SDGs there is an ardent need to improve mental health literacy of students. The course curriculum of students needs to be revisited to integrate informative sessions on mental illness.
 Keywords: Sustainable Development, Education, Mental Health Literacy, CAMI Scale, Undergraduate Students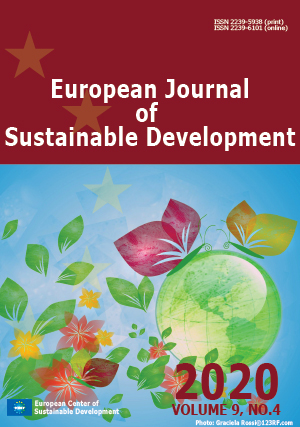 Downloads
How to Cite
Sharma, S. ., Gautam, U. ., & Tewari, D. B. . (2020). Scaling the Mental Health Literacy Amongst Undergraduate Students: A Road Towards Sustainable Development. European Journal of Sustainable Development, 9(4), 219. https://doi.org/10.14207/ejsd.2020.v9n4p219
License
This work is licensed under a Creative Commons Attribution-NonCommercial 4.0 International License.