Traces of Social Sustainability in Garden Cities- Karlsruhe as a Case Study
Abstract
Discussions about sustainable communities as a significant measure in social sustainability began in the 2000s. Sustainable communities are defined as places in which existing and future generations would like to work and live. They contribute to the well-being and quality of life and offer equal opportunities to their residents. The definitions are similar to the objectives of one of the most influential movements in the history of urban planning: the Garden City. The principles of the Garden City are applicable to new and existing towns and its concept has been adopted in different contexts until today. Therefore, many lessons can be learnt regarding sustainable urbanism by studying social sustainability in this type of urban settlement. As a first step towards this aim, this paper studies the experience of living in the Garden City of Karlsruhe today. A survey was conducted among the current inhabitants. The study shows a high level of satisfaction and the tendency for a long residency in the Garden City because of the reasons like ample greenery, central location, and quietness of the settlement. The results will be used as the first dataset for developing a framework for urban social sustainability in the Garden Cities.
 Keywords: sustainable urbanism, social sustainability, sustainable communities, user satisfaction, Garden Cities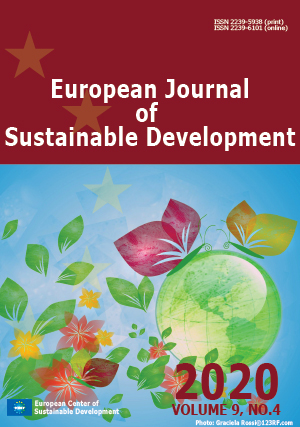 Downloads
How to Cite
Bagheri, M. . (2020). Traces of Social Sustainability in Garden Cities- Karlsruhe as a Case Study. European Journal of Sustainable Development, 9(4), 250. https://doi.org/10.14207/ejsd.2020.v9n4p250
License
This work is licensed under a Creative Commons Attribution-NonCommercial 4.0 International License.