Oil and Fat Business of Ukraine: Marketing Orientation for Achieving Competitive Advantages
Abstract
The article examines theoretical approaches to achieving the competitive advantages of Ukrainian oil and fat enterprises in modern market conditions. Special attention is paid to the peculiarities of the use in business management of marketing concepts of business organization, which are oriented at the market, needs of consumers, society and other stakeholders. The most effective results for the enterprises are provided by the implementation of marketing management concepts that are oriented at identifying and meeting consumer demand as well as consideration of the interests of all other stakeholders in the supply chain of oil and fat products, the individual, community and society, i.e. concepts of marketing interaction and holistic marketing.
The supply chain of oil and fat products includes the economic interests of business entities that develop varieties of oil and fat seeds, machinery and technology, supply of resources, production of raw materials, processing, storage and transportation, etc. A key position in the supply chain is occupied by the consumer. The success of the marketing strategy of the enterprise depends on the degree of consideration of the interests of the individual, communities, society and the state.
It is concluded that oil and fat companies in the food industry can gain sustainable competitive advantages due to integration efforts aimed to form agricultural and food clusters in local geographical areas from all stakeholders and relationships in the supply chain of oil and fat products including suppliers, manufacturers, intermediaries, consumers, government and other organizations, etc.
Keywords: oil and fat business, marketing orientation, competitive advantages, supply chain, stakeholders, interests, oil and fat cluster.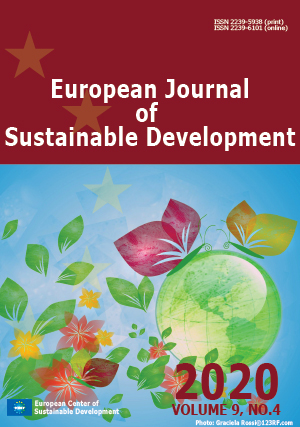 Downloads
How to Cite
Gonchar, O. ., Zamkova, N. ., Polishchuk, I. ., Dovhan, Y. ., & Sokolovska, V. . (2020). Oil and Fat Business of Ukraine: Marketing Orientation for Achieving Competitive Advantages. European Journal of Sustainable Development, 9(4), 261. https://doi.org/10.14207/ejsd.2020.v9n4p261
License
This work is licensed under a Creative Commons Attribution-NonCommercial 4.0 International License.