Criteria for Assessing the Energy-Ecological Effectiveness of using the Sludge of Waste Treatment Plants as Components of Liquid Composite Fuels
Abstract
The challenging issues in the sustainable development of a state currently are the problems of protecting the environment from contamination, increasing the capacity of systems for recycling and reusing water, and the development of resource saving and non-waste technologies. The authors have developed and introduced the technology of hydrocavitation activation of liquid hydrocarbons to create composite fuels that can contain off-spec hydrocarbons, including stale fuel oil, oil tanker outwashes, stillage bottoms, coal, bio mass, industrial wastes and the sludge of wastewater treatment plants. The main criteria were defined for assessing the energy-ecological effectiveness of using sludge in municipal wastewater as a component of composite fuels. The criteria are as follows: the calorific capacity of the fuel mixture, the energy effectiveness of its use as an energy resource, consumer properties, and the environmental performance of combusting this kind of fuel. Using these criteria during the production and combustion of composite fuels obtained with hydrocavitation activation allows producing high-quality fuel mixtures with specified thermophysical and consumer properties. This opens the prospects of more effective usage of hydrocarbon resources and of solving simultaneously two problems: the production of surplus energy and environmental load reduction during the disposal and neutralisation of moisture-containing waste.
Keywords: sludge; hydrocarbon resources; hydrocavitation activation; composite fuels; waste disposal and neutralisation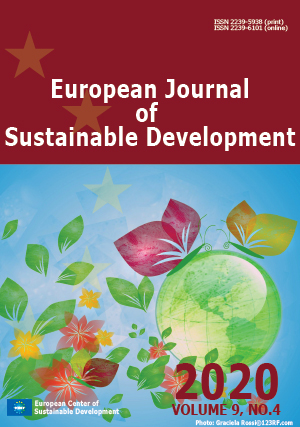 Downloads
How to Cite
Suvorova, I. ., Kravchenko, O. ., Goman, V. ., & Baranov, I. . (2020). Criteria for Assessing the Energy-Ecological Effectiveness of using the Sludge of Waste Treatment Plants as Components of Liquid Composite Fuels. European Journal of Sustainable Development, 9(4), 328. https://doi.org/10.14207/ejsd.2020.v9n4p328
License
This work is licensed under a Creative Commons Attribution-NonCommercial 4.0 International License.