Poverty of Leadership, Coronavirus and Sustainable Development in Nigeria
Abstract
Historically, Nigeria as a socio-political formation has experienced and still experiencing about 21 years of uninterrupted democratic rule since the civilian takeover of leadership through the ballot box from the military in May 1999. All over the world, civilian or democratic leadership is remarkable for its freedom of expression/speech, rule of law, quality leadership through the provision of infrastructure, health care facilities, quality education and other social amenities. This paper which shall use analytic, expository and rational methods argued that poor leadership, in appropriate policies and pursuit of personal drives have denied the masses the benefit of good leadership and governance. The paper argues further that absence of leadership credentials and rationality have further placed Nigeria on a cross road thereby making it unable to take appropriate steps in combating the novel coronavirus pandemic. Leadership ineptitudeness, political and financial rascality, corruption and high –level ethnic and religious profligacy have denied the people adequate development of education and health sector, which made it difficult for Nigeria to respond positively in the fight against coronavirus. The paper concludes, that consistent and pragmatic elimination/erosion of ethno-religious, linguistic and cultural boundaries from our consciousness will birth into positive mental restructuring of the leadership class that will navigate into a process of positive direction that will make Nigeria to respond positively towards finding solution to problems rather than depending on the west, development of home grown medicine remains a combative therapy in a hopeless situation such as this 2020 global living.
Keywords: Poverty, Coronavirus, Leadership, Sustainable, Development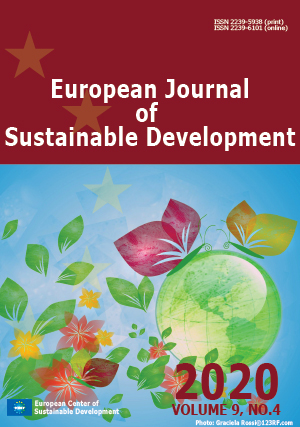 Downloads
How to Cite
Ikegbu, E. A. ., Iwuchukwu, G. C. S. ., Aloysius, E. S. ., & Ariche, C. K. (2020). Poverty of Leadership, Coronavirus and Sustainable Development in Nigeria. European Journal of Sustainable Development, 9(4), 351. https://doi.org/10.14207/ejsd.2020.v9n4p351
License
This work is licensed under a Creative Commons Attribution-NonCommercial 4.0 International License.