Conscious Tourism's Dimension in the Historical Villages of Portugal
Keywords:
Rural Tourism, Conscious Tourism, Sustainability, Historical Villages
Abstract
Recent growth in the tourism sector has promoted the emergence of alternative types of tourism, such as rural tourism. Located in low-density territories, the Historical Villages of Portugal are one of the best examples regarding regional development from the perspective of sustainability. Although it is such an important topic today and gives longevity to destinations, its approach from the conscious tourism perspective is still little valued. This article discusses tourists' characteristics seeking Historical Villages, their behaviour, as well as their awareness and perception of the possible impacts they may cause. Intends to understand the perspective of the tourist experience in the Historical Villages region, and to ascertain the existence of conscious behaviours in rural destinations. Surveys were applied to 453 tourists of the Historical Villages. The main results obtained show that the sociodemographic profile influences the application of conscious practices, and the conscious tourist's attitude will contribute to the overall satisfaction concerning the destination. Also, the better the tourist's relationship with the destination and his overall satisfaction, the more likely he is to implement conscious practices. The results obtained should be evaluated by the regional DMOs with a view to implementing and developing conscious practices at these destinations.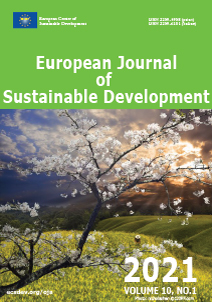 Downloads
How to Cite
Liberato, P. ., Cerqueira, I. ., & Liberato, D. . (2021). Conscious Tourism's Dimension in the Historical Villages of Portugal. European Journal of Sustainable Development, 10(1), 1. https://doi.org/10.14207/ejsd.2021.v10n1p1
License
This work is licensed under a Creative Commons Attribution-NonCommercial 4.0 International License.