Implementation of Public-Private Partnership Models in the Field of Ecological Modernization of the Environmental Safety System
Keywords:
public-private partnership, ecological and economic development, ecological modernization, sustainable development
Abstract
The article considers various forms of public-private partnership, which allow extensive use of private capital in solving many problems not only in the production of public goods and public services, production of natural monopolies, but also in providing natural and man-made and environmental security. It is determined that for the Ukrainian practice it is important to apply the best foreign experience in the implementation of innovative projects on the basis of public-private partnership (PPP). Positive foreign experience highlights the use of PPP in Ukraine as an alternative mechanism for financing innovative projects to implement and accelerate modernization transformations in the national economy. It is established that the implementation of PPP in Ukraine requires the formation of certain institutional conditions: definition of requirements to be met by operators wishing to enter the relevant industries, in particular: evidence of its financial security, evidence of its ability to operate; introduction of the project form of realization of the planned plans; substantiation of local self-government bodies for choosing the form of involvement of the private sector; introduction of an effective system of control by local governments over the performance of current functions and investment obligations by private operators; development of requirements for the reporting system of a private operator; involvement in decision-making on the transfer of infrastructure to the private sector, as well as determining the frequency and types of public control; development and implementation of a mechanism for determining the liability of private sector representatives for causing damage to the property of territorial communities by their actions or inaction and, conversely, determining a mutually acceptable mechanism for return of invested funds, etc. The PPP mechanism forms the basis for the joint responsibility of the state, community and business for the development of sectors that have priority for the regional economy, environmental protection, development of territorial communities.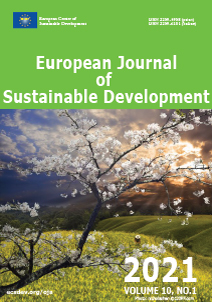 Downloads
How to Cite
Kaletnik, G. ., & Lutkovska, S. . (2021). Implementation of Public-Private Partnership Models in the Field of Ecological Modernization of the Environmental Safety System. European Journal of Sustainable Development, 10(1), 81. https://doi.org/10.14207/ejsd.2021.v10n1p81
License
This work is licensed under a Creative Commons Attribution-NonCommercial 4.0 International License.