Evaluation of Hospital's Emergency Departments According to User Requirements
Keywords:
Hospitals, Users, Emergency Departments, User Needs, Space Requirements
Abstract
Hospitals are large and complex structures that provide 24-hour healthcare. These structures, where many different functions are combined, are constantly changing and developing with innovations in health, technique, and economy. With the technological developments in the world, population growth, the desire to live healthier and longer, hospital structures are reshaped. These developments best define the changes made in programming according to the user needs. In order for hospital buildings to provide health services for many years, they must be durable and designed with developments in the future which can happen. Emergency departments are from the internal units of the hospital. The duty of the emergency department is to bring the patients to the emergency service, to make the first intervention to the patient according to the emergency situation, and to provide the best care to the patient by directing them to the required unit. The emergency department architecture must take into consideration human health while meeting patient and user needs. Emergency departments have evolved from the past to today in line with the new needs of the users. In this study, the space requirements and general design factors of emergency departments are explained.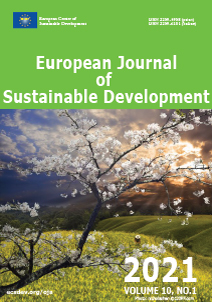 Downloads
How to Cite
Aygün, A. H. ., & Erçin, Çilen . (2021). Evaluation of Hospital's Emergency Departments According to User Requirements. European Journal of Sustainable Development, 10(1), 103. https://doi.org/10.14207/ejsd.2021.v10n1p103
License
This work is licensed under a Creative Commons Attribution-NonCommercial 4.0 International License.