Ecological Aspect of Legal Provision of Modern Land Reform as a Factor of Sustainable Development
Keywords:
land reform, еcological aspect, sustainable development, land melioration, economic incentives, purpose of land
Abstract
The article is devoted to the analysis of the legal support of the Ukrainian land reform from the point of view of its ecological component and realization of the purposes of sustainable development. The ecological aspect of land reform in our state is represented by separate legislative steps of land rehabilitation. In particular, the organizational and legal bases of land melioration have been improved, including the maintenance of field protective forest belts, the legal bases of land division by purpose and territorial planning, etc. The Law on the Circulation of Agricultural Land is aimed at overcoming the moratorium on the alienation of agricultural land. One of its goals is to create conditions for the rational use of land and soil. And this is a prerequisite for their preservation, restoration and improvement, but requires further legal regulation. The paper uses positive foreign experience in land reforms, as well as international and foreign experience in the legal regulation of rational use and protection of land and soil. It is concluded that at the present stage of land reform, the state is trying to restore the efficient use of Ukrainian lands with minimal expenditure of state resources by creating legal, organizational and economic prerequisites, when landowners, land users and local communities, by virtue of their environmental and social legal awareness, legal culture and responsibilities, will be able to restore Ukraine's land potential and achieve sustainable development goals.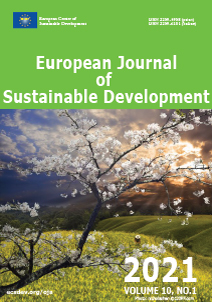 Downloads
How to Cite
Zaiets, O. ., Vlasenko, Y. ., Busuyok, D. ., & Pozniak, E. . (2021). Ecological Aspect of Legal Provision of Modern Land Reform as a Factor of Sustainable Development. European Journal of Sustainable Development, 10(1), 168. https://doi.org/10.14207/ejsd.2021.v10n1p168
License
This work is licensed under a Creative Commons Attribution-NonCommercial 4.0 International License.