Social-and-Ecological Aspects of Forage Production Reform in Ukraine in the Early 21st Century
Keywords:
pasture complex, block diagram, cycle wedge, satellite area, sheltered base
Abstract
On the basis of the "three sigma" rule, a statistical stratification of the Ukrainian effective community into economic welfare groups according to their social and economic status has been carried out, thus creating the basis for substantiating the expediency of reforming the forage production sector in order to further expand the production of organic livestock products through the up-to-date approaches to the formation and use of climate adaptive feed-related phytocenoses. In order to increase the productivity of grass fodder, an innovative model of the grass-grazing complex has been developed. Its structure includes a cyclic wedge of long-term cereal-bean pasture which involves perennial grasses of the botanical species adapted to the zonal ecological and technological conditions, a satellite wedge of traditional mixtures of annual crops and atypical pasture plants – burnet polygamous (Poterium poligamum Woldst. et Kit.), prairie dock (Silphium perfoliatum L.) and others, whose herbage is used during the off-season, when the main cyclic wedge is found to be low-yielding, as well as a sheltered base, equipped with outdoor hoppers and shelters designed to protect animals in bad weather. The introduction of meadows and pastures in the system of zonal fodder production will contribute to the improvement and stabilization of the production of cheap and adequately nutritious herbal feeds thus increasing the resource potential of the area.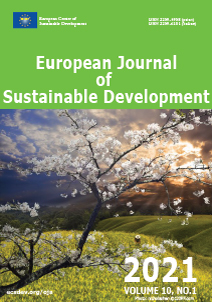 Downloads
How to Cite
Puyu, V. ., Bakhmat, M. ., Khmelianchyshyn, Y. ., Stepanchenko, V. ., Bakhmat, O. ., & Pantsyreva, H. . (2021). Social-and-Ecological Aspects of Forage Production Reform in Ukraine in the Early 21st Century. European Journal of Sustainable Development, 10(1), 221. https://doi.org/10.14207/ejsd.2021.v10n1p221
License
This work is licensed under a Creative Commons Attribution-NonCommercial 4.0 International License.