The Socio-economic Potential of the Emerging Film Industry in Saudi Arabia
Keywords:
Film industry, film growth, sustainable development, cinema, socio-economic scenario, socio-economic development,, Saudi Arabia
Abstract
The Kingdom of Saudi Arabia transformed from a developing Middle Eastern nation into a regional power with ambitious projects in a variety of sectors. In this framework, the government proceeded to legalize cinemas in 2018, with an unprecedented step of issuing seven licenses for major cinema operating businesses. All of the prominent steps designed to promote the film industry align with the broader concept of expanding Saudi Arabia's cultural and economic boundaries by adopting a path towards modernization and diversification. As the study seeks to investigate the social and economic prospects of the newly-established motion picture sector in the Kingdom of Saudi Arabia, the review is based on the recent commitments and current plans by Saudi authorities and associated organizations. From the socio-economic perspective, the decision to lift the ban on theatres is a crucial milestone, allowing the country to strengthen its entertainment sector. Despite the diversity of suggested strategic plans, the consensus of the Saudi authorities is to stimulate both local and foreign businesses seeking to open new cinemas in Riyadh, Jeddah, and other cities.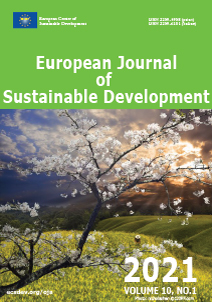 Downloads
How to Cite
Shesha, L. S. ., & Yusuf, N. . (2021). The Socio-economic Potential of the Emerging Film Industry in Saudi Arabia. European Journal of Sustainable Development, 10(1), 239. https://doi.org/10.14207/ejsd.2021.v10n1p239
License
This work is licensed under a Creative Commons Attribution-NonCommercial 4.0 International License.