Multidimensional Analysis of Ethical Leadership for Business Development
Keywords:
Axiology, economics, ethics, ethical leadership, intellectual capital, philosophy of values, values
Abstract
Tremendous progress has been made in industry including artificial intelligence, robotics and 4th generation of industry. People in most countries work smarter, hard work is supplied by machines and automatics do constantly repeated operations. Modern technology has made work smarter, quicker and more precise than human works. But there are still many problems to tackle. Tension on effective work is much than higher. Companies prioritize well educated people. The value of the company is measured not only by the level of financial capital, either intellectual capital is also rated. There are economic reasons for prioritizing effectivity in industrial development, and intellectual capital increasing level of effectivity. On the other hand, there are some arguments for prioritizing social and ethical responsibility. Economic growth could not be the only reason for development in business. In addition, involvement in corruption scandals and environmental accidents can severely damage the reputation of a company. Innovation in management is needed. Some results of investigations in that area suggested that ethical leadership could gain negative consequences of human behavior. Finally, it has been found that the development in ethical leadership could bring the benefits for employee and employers and can increase level of productivity and thus profits of companies. The main aim of the article is to describe an investigation of ethical leadership influence on companies.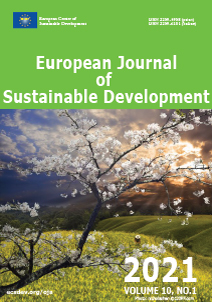 Downloads
How to Cite
Bláha, J. ., Klimsza, L. ., Lokaj, A. ., & Nierostek, L. . (2021). Multidimensional Analysis of Ethical Leadership for Business Development. European Journal of Sustainable Development, 10(1), 290. https://doi.org/10.14207/ejsd.2021.v10n1p290
License
This work is licensed under a Creative Commons Attribution-NonCommercial 4.0 International License.