STEM Education in Ukraine in the Context of Sustainable Development
Keywords:
STEM education, sustainable development, sustainable development goals, principles of sustainable development, competency-based approach in education
Abstract
The conceptual and generalizing experience of STEM education implementation presented in Ukraine reflects the realization of the sustainable development goals through educational innovations. The study is based on the premise that STEM is a component of education for sustainable development. This educational trend focuses on the goals of Education for All (EFA), conforms to the ideas of the education-related Millennium Development Goals (MDGs) and relates to solving societal challenges in the long run. It is argued that the concept of STEM seeks to offer non-standard solutions to global issues in the field of sustainable development, and STEM education should be seen as a mechanism to accelerate the achievement of all sustainable development goals (SDG) and a strategy to obtain each of them. The specifics of STEM key ideas as global educational trends in the national Ukrainian public space are demonstrated. The consideration of STEM education as a component of the strategy for sustainable development through the detailing of the structure and implementation principles as well as STEM competencies, which are defined as the expected result and key for the person of the XXI century, is proved. The experience of Ukrainian research initiatives in the field of STEM education in the context of sustainable development is summarized. A full-fledged programme complex for comprehensive, equitable and high-quality education is presented, which combines the following links: research and experimental work of different levels, teacher's professional development, museums and science centres work, implementation of various educational programmes, festivals and projects to attract young people to STEM, ensuring equal access for girls and boys.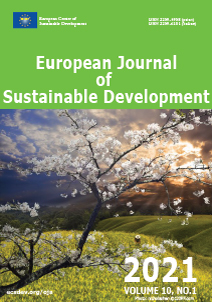 Downloads
How to Cite
Buturlina, O. ., Dovhal, S. ., Hryhorov, H. . ., Lysokolenko, T. ., & Palahuta, V. . (2021). STEM Education in Ukraine in the Context of Sustainable Development. European Journal of Sustainable Development, 10(1), 323. https://doi.org/10.14207/ejsd.2021.v10n1p323
License
This work is licensed under a Creative Commons Attribution-NonCommercial 4.0 International License.