Food Waste in Catering Establishments – An Analysis of Causes and Consequences
Keywords:
food waste, causes of food waste, food service sector, waste of bread, waste of fruit and vegetables
Abstract
Food waste and food loss covers the entire food chain, and its scale varies depending on the given part of the chain. The aim of this study was to identify causes of food waste in the catering sector. The research was carried out in catering establishments using a specially designed questionnaire. The study was conducted in Mazowieckie Voivodship (Poland) in 2019. Forty-two questionnaires were collected. The scoring of most questions was based on a 5-point scale (e.g. 1 – never to 5 – always). It was found that the most frequently wasted products in catering establishments were those with signs of deterioration or that were expired (29% and 26.3% of respondents respectively indicated that this type of product is discarded every day). Ready elements of dishes, e.g. cooked potatoes or boiled rice that have not been served to consumers are rarely reused in the catering sector. The most frequently given reason for throwing out food included preparing too many meals, purchases that were too large, and ill-considered purchases. The results of this study may play an important role in the prevention of food waste in catering establishments by indicating which areas of employee practices should be improved by educational activities.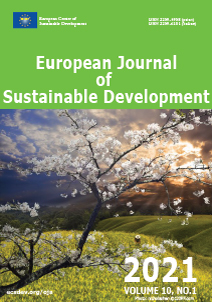 Downloads
How to Cite
Tomaszewska, M. ., Bilska, B. ., & Kołożyn-Krajewska, D. . (2021). Food Waste in Catering Establishments – An Analysis of Causes and Consequences. European Journal of Sustainable Development, 10(1), 365. https://doi.org/10.14207/ejsd.2021.v10n1p365
License
This work is licensed under a Creative Commons Attribution-NonCommercial 4.0 International License.