Assessing the Impact of Social Innovation Education on Student's Engagement
Keywords:
Social Innovation, Education, impact, cognitive, behavioural, emotional, agentic engagement
Abstract
This paper presents the findings of the H2020 NEMESIS project that aims to design, test and validate a consolidated approach for embedding Social Innovation in Education. Social Innovation Education (SIE) is a new educational approach that aims to empower students to take action for a more democratic and sustainable society. During the academic year 2018-2019, eight schools from five European countries applied the NEMESIS SIE framework by involving 56 teachers, 1030 students and 69 community members in a variety of SIE approaches. This paper reports on these attempts with a particular focus on analysing their impact on student's engagement. Data were retrieved through focus groups with 80 people, an online survey to 206 students, interviews, classroom observations and students' narratives. Research findings suggested positive outcomes for students in terms of emotional, cognitive, behavioural and agentic engagement. Findings also showed a positive influence of SIE on the cultivation and progression of students' social innovation competences.  These initial findings have the potential to pave the way for more research in the under investigated field of SIE as well as to encourage policies and initiatives for promoting social innovation in education.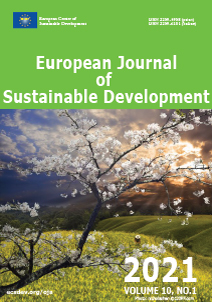 Downloads
How to Cite
Kalemaki, I. ., Garefi, I., & Protopsaltis, A. . (2021). Assessing the Impact of Social Innovation Education on Student's Engagement. European Journal of Sustainable Development, 10(1), 389. https://doi.org/10.14207/ejsd.2021.v10n1p389
License
This work is licensed under a Creative Commons Attribution-NonCommercial 4.0 International License.