Identification of Risk Factors of Food Losses in Food Processing Plants
Keywords:
food losses, causes of food losses, effects of food losses, food industry plants
Abstract
Losses take place along the entire food chain and they need to be analysed and monitored due to their impact on the development of the food sector. In addition to quantitative losses, irrational use of food contributes to the depletion of natural resources (e. g. water and energy) and poses a threat to the environment, constituting a barrier to sustainable development of the food sector. The aim of this study was to establish the causes and effects of food losses in food industry plants and to propose measures for their mitigation. The material for the study was data on losses gathered in six food industry plants located in Poland. The study was conducted on the basis of a survey. In the studied plants, 20 causes of losses were found. A fundamental role in food production is played by access to raw materials of appropriate quality. In any enterprise, the key factor responsible for the commission of errors is human. Food losses affect the food system and its balance in three dimensions: economic, social and environmental - due to the waste of resources used to produce food that is never eaten and due to greenhouse gas emissions. In summary, the risk of food losses must be prevented by eliminating any errors that may result in a product of inadequate quality characteristics.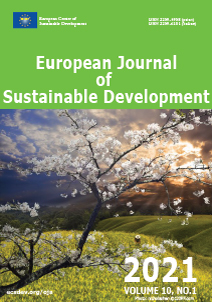 Downloads
How to Cite
Bilska, B. ., Tomaszewska, M. ., & Kołożyn-Krajewska, D. . (2021). Identification of Risk Factors of Food Losses in Food Processing Plants. European Journal of Sustainable Development, 10(1), 539. https://doi.org/10.14207/ejsd.2021.v10n1p539
License
This work is licensed under a Creative Commons Attribution-NonCommercial 4.0 International License.