Regional Competitiveness as an Aspect Promoting Sustainability of Latvia
Keywords:
competitiveness, sustainability, factors of competitiveness, matrix of competitiveness level and growth, Regional Competitiveness Index
Abstract
Providing of sustainability is one of the main priorities in normative documents in various countries. Factors affecting regional competitiveness is seen as close to them determining sustainability in many researches. The aim of this research was to identify and evaluate main factors of competitiveness for statistical regions of Latvia to promote sustainable development of the country, applying the complex regional competitiveness assessment system developed by the author. The analysis of the Regional Competitiveness Index (RCI) and its sub-indexes showed that each statistical region has both: factors promoting and hindering competitiveness. Overall the most competitive is Riga statistical region, but the last place takes Latgale statistical region. It is possible to promote equal regional development and sustainability of Latvia by implementing well-developed regional development strategy and National Action Plan. To develop such strategies, it is necessary to understand the concept of sustainable competitiveness. To evaluate sustainable competitiveness of Latvia and its regions it is necessary to develop further the methodology of regional competitiveness evaluation.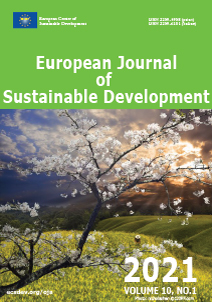 Downloads
How to Cite
Judrupa, I. . (2021). Regional Competitiveness as an Aspect Promoting Sustainability of Latvia. European Journal of Sustainable Development, 10(1), 650. https://doi.org/10.14207/ejsd.2021.v10n1p650
License
This work is licensed under a Creative Commons Attribution-NonCommercial 4.0 International License.