Factors Affecting International and National Tourist Arrivals (1974-2020) in Leh District (U.T. Ladakh, India)
Keywords:
Tourism, Tourist arrivals, Leh District, Ladakh, Sustainable development
Abstract
Since 1974, tourists are attracted in Leh district for its mountainous landscape, environment, high altitude lakes, Indus River, beautiful villages and Himalayan people living in scenography valleys filled of Buddhist heritage sites. All makes this region a great place for adventure sports, sightseen, cultural and religious tourism. Tourism industry has rapidly become one of the most important aspects of District development paths. Visitors bring hard currency and spend money contributing to monetary economic boom that can have both positive and negative impacts on the society and territory. Tourism in Leh District has a short season (from May to October) but a highly profitable business especially with national visitors increasing by the day. This study, based on data collected from the Tourism Department in Leh, analyses the international and national tourist arrivals in time series to find out pattern and trends in the historical data and investigate global and local factors affecting tourist inflows (rises or falls) in the District. Yearly arrivals depends on several factors and issues as geopolitical and global economic problems, new trends in tourist destinations, film induced tourism, climate changes, natural disasters, pandemic and more. These unpredictable factors affect tourist flows, decreasing or increasing the arrivals even drastically. The long-term sustainability of the local development must not depend mainly on mass tourism because economic dependence on only one, although promising but fluctuating sector, pose several problems (e.g. impacts and pressure on infrastructures, environment and significant socio-cultural changes.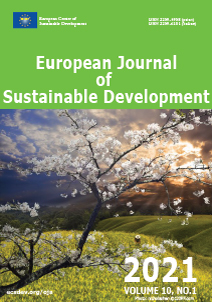 Downloads
How to Cite
Pelliciardi, V. . (2021). Factors Affecting International and National Tourist Arrivals (1974-2020) in Leh District (U.T. Ladakh, India). European Journal of Sustainable Development, 10(1), 736. https://doi.org/10.14207/ejsd.2021.v10n1p736
License
This work is licensed under a Creative Commons Attribution-NonCommercial 4.0 International License.