Aspects of the Circular Economy in the Member States of the European Union
Keywords:
generation of waste, recycling of waste, European Union
Abstract
The interest in having a low-carbon economy has led to transformations in the economies of all countries. New economic models are being put into practice. New jobs are being created. Sustainable use of resources is becoming more important. The article presents an analysis of waste generation in the member countries of the European Union. The study of the possibility of reusing certain materials started from the design phase of the finished product. Production processes can also contribute to saving natural resources. This can create new business opportunities and avoid inefficient waste management. The article also analyzes the degree of municipal waste collection, as well as the share of recycled municipal waste. In the production process, the recovery of certain materials and then their use can lead to savings in the use of raw materials. This reduces the pressure exerted by the extraction of raw materials on the environment. Further investments in green technologies will contribute to the efficient use of natural resources, restore biodiversity and reduce pollution.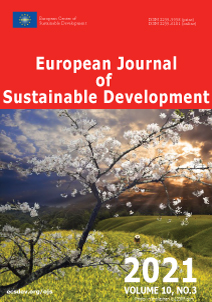 Downloads
How to Cite
Bran, F. ., Bodislav, D. A. ., Platagea Gombos, S. ., & Sorin Angheluță, P. . (2021). Aspects of the Circular Economy in the Member States of the European Union. European Journal of Sustainable Development, 10(3), 39. https://doi.org/10.14207/ejsd.2021.v10n3p39
License
This work is licensed under a Creative Commons Attribution-NonCommercial 4.0 International License.