Surveying the Impact Quality of the Bank's electronic Services on Financial Performance (with the Emphasis on the Customer Satisfaction Model)
Abstract
Survival of any organization in today's competitive environment, is based on clients. Every organization and its customers' current and future needs are identified and satisfied by providing to meet those needs, and it continues to be applied in order to increase their satisfaction. Many organizations utmost sense of audience satisfaction and value creation institute in their strategic plans, mission statements and policy organizations are planning accordingly. The aim of this study was to investigate the impact of e-banking service quality, customer satisfaction and financial performance of banks.
 This investigation is inspired by the idea of Long-Linked Technology of James Thompson, in an environment of uncertainty factors (the research model). This study was to investigate the effect of customer perceived e-service quality on bank financial performance and to test the mediating role of customer satisfaction on customer perception of service quality of financial performance of e-banking.
The results of the field study analyzing the effects of e-service quality and customer satisfaction on financial performance of public and private banks have been gathered. The outcome of the analysis showed that the quality of the electronic components of the ATM quality of service, phone banking, internet banking quality, has a positive impact on customer satisfaction.
The results showed that the effect of customer satisfaction due to the quality of e-banking services has a mediating role on the overall financial performance.
Key Words: e-banking, customer satisfaction, performance, management.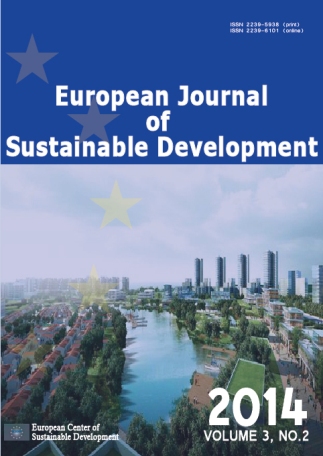 Downloads
How to Cite
Mohmoodi, A. P., & Asetmal, A. K. (2014). Surveying the Impact Quality of the Bank's electronic Services on Financial Performance (with the Emphasis on the Customer Satisfaction Model). European Journal of Sustainable Development, 3(2), 97. https://doi.org/10.14207/ejsd.2014.v3n2p97