Albanian Industry Problems and Perspectives, in Front of the Crisis and International Labor Allocation
Abstract
Recently the Albanian economy has continuously recorded a significant reduction of the GDP growth rate, from 7.5 % in 2008 to 1.3% in 2013. This decline is followed by the deficit and public debt increase, where the latter reached in 70.4% in March 2014,
compared to 59.9% in 2009. The interesting fact to note is that, although the 2008 financial crisis first was initiated in USA, it has influenced the economic development of all the countries. While our country that was indirectly affected by the crisis has
experienced a substantial decline of remittances, significant reduction of FDI, and shrunken labor market dynamics even in those activities that generated employment at a large extent although under the legal and vital minimum wage such as fasson or callcenter services, which has directly affected unemployment growth and domestic consumption reduction.
This paper aims to provide an analysis of the Albanian economy from two main aspects, both macroeconomic and microeconomic. In the first part it will be discussed recently Albania's economic performance and the main factors affecting its growth in the long
term. While in the second part it will be discussed Albanian productive structure, analyzing the changes of export structure of Albania, its production specialization, speaking about labor intensive sectors and their impact on the domestic economy.
Keywords: foreign trade, economic development, commercial specialization.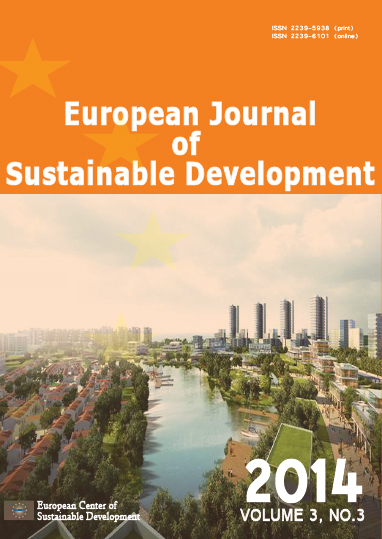 Downloads
How to Cite
Ruspi, E., Muco, K., & Mitaj, A. (2014). Albanian Industry Problems and Perspectives, in Front of the Crisis and International Labor Allocation. European Journal of Sustainable Development, 3(3), 93. https://doi.org/10.14207/ejsd.2014.v3n3p93