Recovering from the Effects of Natural Disaster: The Case of Urban Cagayan de Oro, Philippines
Abstract
Tropical Storm Washi hit urban Cagayan de Oro, the Philippines, in 2011. It left some 2000 people dead or missing. Thousands of survivor households had to be resettled. Local and international relief groups put up housing structures, health and sanitation facilities, and livelihood opportunities. This paper posits that the survivor households have recovered their level of living given the inputs from outside groups, and despite cohesion and ethnicity issues commonly attendant to new neighborhoods. This paper uses data from a survey of 674 respondents in resettlement and village communities. Data show that while the two communities have similar ethnic diversity, the
village community shows a statistically significant advantage over the resettlement community in level of living, which suggests that the latter has not recovered yet from the devastation. Cohesion is facilitated by social organizations. Members of social
organizations have higher level of living than non-members. And when organizational membership is controlled for, the advantage of the village community in level of living disappears.
It is argued therefore that more efforts from the resettlement communities with support from the local government units, civil society organizations, and humanitarian groups are needed to improve the survivors' living conditions via enhanced campaigns for membership in social organizations.
Key Words: Natural Disaster, Cagayan de Oro, Level of Living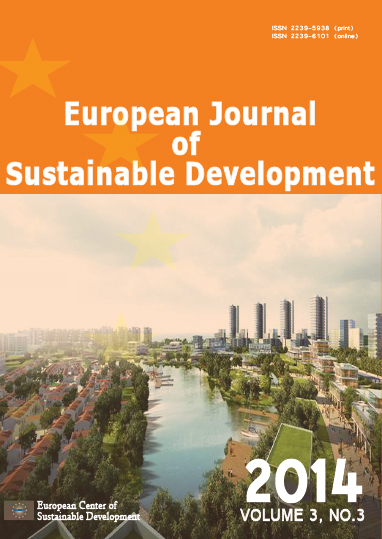 Downloads
How to Cite
Sealza, I. S., & Sealza, L. P. (2014). Recovering from the Effects of Natural Disaster: The Case of Urban Cagayan de Oro, Philippines. European Journal of Sustainable Development, 3(3), 103. https://doi.org/10.14207/ejsd.2014.v3n3p103