Networks and cooperation for sustainable development The role of local authorities and clusters in regional development and economic growth
Abstract
An important role of modern economy is to create a well-functioning system of connections and supporting relations between local actors (entrepreneurs, business environment institutions, R&D area and local authorities).Present economy emphasizes various levels of cooperation:global, regional, national and local, at the same time indicating that local activity is essential for reaching the Millennium Development Goals.
It should be underlined that they expire in 2015, and in the next year new goals will be proposed: Sustainable Development Goals.Bearing in mind the above, the aim of the article is to present the role of local authorities and network cooperation in achieving economic growth and sustainable developmentof the modern world. The paper presents new trends in regional policy undertaken by the EU: cooperation at the local level and
how to identify regions' domains using cluster.
In order to achieve this aim, the author used the qualitative methods, which allowed to broaden the knowledge concerning the examined phenomenon, the literature study of available literature, reports in the area of knowledge systematization and definitions related to clusters, regional development and the significance of local authorities.
Key words:importance of local authorities, clusters, economic growth, sustainable development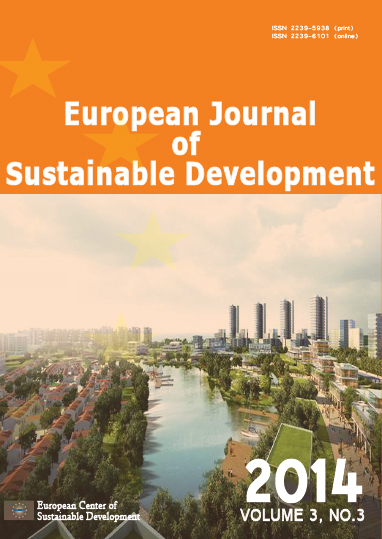 Downloads
How to Cite
Mempel-Śnieżyk, A. (2014). Networks and cooperation for sustainable development The role of local authorities and clusters in regional development and economic growth. European Journal of Sustainable Development, 3(3), 111. https://doi.org/10.14207/ejsd.2014.v3n3p111