Electronic Commerce as a Sustainable Business
Abstract
Environment, societies, and economy are the scope of sustainability in each community. Electronic commerce (e-commerce) is rapidly developing due to its potential as a green business, democratic partnership and economic opportunity. Iran to date has grappled with a significant decline in economic activity across multiple economic sectors, lasting
more than a few months (years?), normally apparent in real gross domestic product (GDP), real income, employment, industrial production, and wholesale-retail sales. In this context, this study's main objective is to demonstrate that e-commerce could be a powerful factor in creating a sustainable future for Iran. Defining Environmental economics and Innovation, competitiveness and eco-efficiency factors by the Delphi method and the Europe 2020 strategy in the National Sustainable Development Committee of Iran, these elements have been evaluated using the Decision Making Trial and Evaluation Laboratory (DEMATEL) technique with regards to Iran's condition.
Finally, the study results support the view that although Sustainable Economic and Innovation, competitiveness and eco-efficiency can be impacted by e-commerce in Iran, it
stands to have the greatest impact on environmental economics. In addition the adoption of e-commerce would be both operationally and strategically viable for Iran's society.
Keywords: Socio-Economic Development, Green economics, Economic Sustainability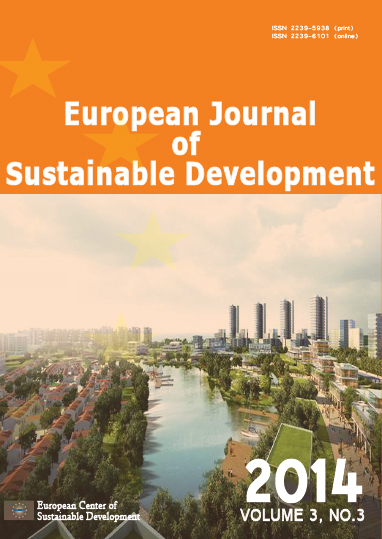 Downloads
How to Cite
Gorgani, M. R. N. (2014). Electronic Commerce as a Sustainable Business. European Journal of Sustainable Development, 3(3), 141. https://doi.org/10.14207/ejsd.2014.v3n3p141