Environmental and Climate Culture for Sustainability: Experiences from Engineering Undergraduate Programs
Abstract
The educational system should contribute to the resolution of the socio-environmental crises that society faces today. Climate change is one of those problems that affects everyone on the planet. In fact, research is beginning to emerge about the importance of educating for the climate and sustainability; particularly, the identification of some practices and engineering projects related to climate change. However, this issue needs to be included in the teaching-learning processes in all educational programs. This analysis presents the perception of engineering students about climate change and sustainability, as well as its application in climate and sustainable action projects. This research was qualitative, focusing on the 'sustainable development' course delivered at the Tecnologico Nacional de Mexico, from educational practice in seven engineering undergraduate programs. A combination of four exploratory questions and project-based learning were applied to engineering students to identify key elements in the perception and conceptualization of climate change, sustainable development, and climate education. The results show that the students are aware of what is happening with the earth's temperature and global warming; some of them also showed project initiatives to address a climate or environmental problem. Engineering education have great potential to contribute to solving environmental and climate problems.
Key Words: climate education, environment, sustainable development, engineering education, Mexico.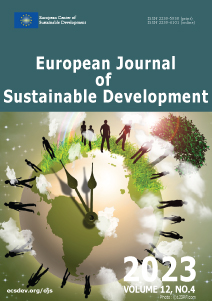 Downloads
How to Cite
Sosa Alcaraz, M. ., Campos Chuc, F. ., Santos Valencia, R. ., & Garrido Vivas, P. . (2023). Environmental and Climate Culture for Sustainability: Experiences from Engineering Undergraduate Programs. European Journal of Sustainable Development, 12(4), 399. https://doi.org/10.14207/ejsd.2023.v12n4p399
License
This work is licensed under a Creative Commons Attribution-NonCommercial 4.0 International License.