Effective Leadership and the Quest for Environmental Sustainability in Africa
Abstract
The African continent is undeniably blessed with immense resources that spans from natural to human. The remarkably blessed natural resources and the unique environment accounts for the abundance of food and raw materials that keep the various industries around the world operational. In other words, Africa and its numerous natural resources cannot be undermined in the world's food-chain and supplies of raw materials that keep industrial world functional. This beautiful horizon of Africa's natural environment remains the home of various species of unique animals and plants. However, in recent times, the rich African environment and natural resources have been under threats by various human activities and natural disaster such as Gas flaring, Deforestation, flood, wild fire, hunting, oil explorations etc.  These human and natural disaster have put the African continent and indeed its beautiful natural environment at the threshold of near collapse, unproductivity, risk of extinction of unique plants and animals and of course other unimaginable problems, if not properly handled. Leadership crisis and indeed poor leadership in Africa have not only contributed to the socio-political and cultural problems in Africa, but to the environmental crisis and mismanagement of various resources that can aid the progress of Africa. This paper affirms that effective leadership remains a propitious tool of environmental sustainability in Africa. 
Keywords: Leadership, Effective leadership, Environmental sustainability in Africa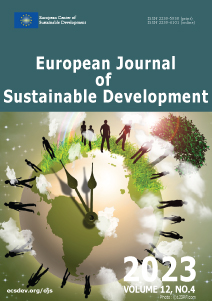 Downloads
How to Cite
Solomon, K. C., Nkem Okolie, . C. ., Enyinnaya Nwamuo, B. ., Okeke Ifeanyi, J., Okoroafor Ogbonnaya, I. ., Chibuike Anyanwu, . T. ., & Nneka Okezie, B. . (2023). Effective Leadership and the Quest for Environmental Sustainability in Africa. European Journal of Sustainable Development, 12(4), 417. https://doi.org/10.14207/ejsd.2023.v12n4p417
License
This work is licensed under a Creative Commons Attribution-NonCommercial 4.0 International License.