Economic impact of productive use of renewable energy: A case of a women-collective from rural Maharashtra (India)
Abstract
Development activities and energy access are intertwined; however, they also contribute towards climate change. Therefore, climate friendly activities are needed to be promoted to ensure socio-economic development. Productive use of renewable energy for income generation is an emerging area of development in developing countries and is under-explored; therefore, there is a need to study the impact of such interventions on income generation. In this context, this paper attempts to estimate the impact of a renewable energy based, women managed collective from rural Maharashtra (India) on the income of beneficiaries using interview-based survey design. An analysis of the data indicates a significant change in beneficiaries' income with associated multiplier effect vis-à-vis non-beneficiaries', depicting such initiatives have potential to effect socio-economic development while being environment friendly. This is vital as India foresees an important role for renewable energy to address development issues, rural infrastructure gaps, and climate goals.
Keywords: Climate Change, Sustainable Development, Renewable Energy, Collective, Women Empowerment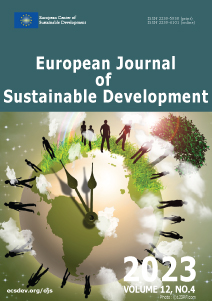 Downloads
How to Cite
Ingole, C. K. . (2023). Economic impact of productive use of renewable energy: A case of a women-collective from rural Maharashtra (India). European Journal of Sustainable Development, 12(4), 467. https://doi.org/10.14207/ejsd.2023.v12n4p467
License
This work is licensed under a Creative Commons Attribution-NonCommercial 4.0 International License.