Precariat As an Anomic Vector of the Shadow Economy: Challenges and Threats to the Sustainable Development of Society
Abstract
This article delves into the theoretical understanding of the precariat as an emerging social class, which challenges the established norms of economic life. As modern society undergoes constant changes in its social structure, the concept of precariat has gained prominence in scientific discourse. However, despite its significance, the precariat remains inadequately defined, with various interpretations and debates surrounding its characterization. The primary objective of this research is to define the precariat, outline its distinctive attributes, and explore its role in contemporary society. Through a comprehensive analysis of relevant scientific literature, the authors aim to highlight the risks and challenges posed by the precariat to the sustainable development of society, with a particular focus on its impact on the economic realm. This article sheds light on the precariat's origins, its position in the social structure, and its defining characteristics. It becomes evident that the precariat's definition remains controversial, with different countries offering distinct interpretations of the concept. One significant factor contributing to the emergence of the precariat is the transition towards a new societal paradigm with novel social configurations. This class is characterized by its lack of stability, precarious employment conditions, absence of social benefits, insecure rights, and a sense of alienation not only from labor but also from society as a whole. Furthermore, the precariat predominantly occupies the lowest income positions within the social hierarchy. The precarious and vulnerable position of the precariat renders it susceptible to manipulation by other social actors for their own interests. Additionally, precariat groups may rise against their own circumstances. Failure to address the challenges faced by the precariat could lead to the evolution of a "dangerous class" within society, potentially instigating radical transformations in social life. In conclusion, this article provides an in-depth exploration of the precariat as a novel social class, shedding light on its defining features and its implications for modern society. Understanding the precariat's role is essential for devising strategies to mitigate its risks and challenges, ensuring a more sustainable and equitable economic space for all. By addressing the vulnerabilities and uncertainties faced by the precariat, societies can strive for a future where opportunities are equitably distributed, contributing to the overall development and progress of humanity as a whole. The findings of this research contribute to a better understanding of the precariat's role as an anomic vector of the shadow economy and its potential challenges and threats to sustainable development in contemporary societies.
 Keywords: precariat, shadow economy, social class, sustainability, societal impact, uncertainty, inequality.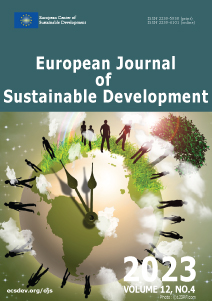 Downloads
How to Cite
Ishchuk, M. ., Khrypko, S. ., Chop, V. ., Serhieienkova, O. ., Spudka, I. ., & Divchuk, T. . (2023). Precariat As an Anomic Vector of the Shadow Economy: Challenges and Threats to the Sustainable Development of Society. European Journal of Sustainable Development, 12(4), 561. https://doi.org/10.14207/ejsd.2023.v12n4p561
License
This work is licensed under a Creative Commons Attribution-NonCommercial 4.0 International License.