Economic sustainability of Farms in Poland
Abstract
Measuring the level of agriculture sustainability is very complex. Different proposals are presented and discussed, and still, there is no generally accepted measures of the sustainability of agriculture. This problem also concerns economic sustainability of
agriculture. Sustainability of agricultural holdings determines the sustainability of agriculture, although these notions are not identical. The Agricultural Censuses that are carried out in all the European Union countries are based on a uniform methodology. The Agricultural Census data can be used to measure the sustainability of agricultural holdings, including economic sustainability – in individual countries and for comparative analysis between them. This, without doubts, is a great
advantage of this database. However, a limited scope of collected data is their weakness. The purpose of the article is to present proposals for measuring the economic sustainability of agricultural holdings in Poland on the basis of Agricultural Census data, 2010. This article sets the following indicators of the economic sustainability: land productivity, labour profitability, farms market activity and sources of households' income
and maintenance. The analysis concerns individual agricultural holdings with at least 1 ha of agricultural land and it is also carried out in the area groups.
Key Words: agriculture, environmentally sustainable farm, income,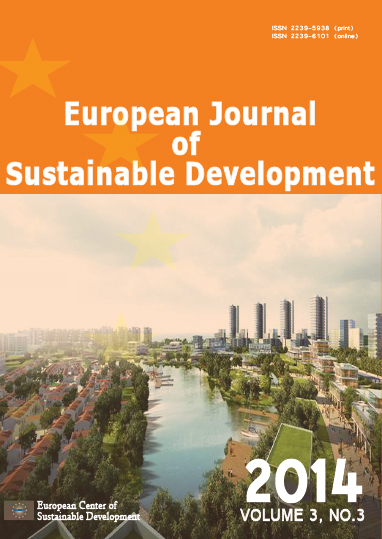 Downloads
How to Cite
Wrzaszcz, W., & Zegar, J. S. (2014). Economic sustainability of Farms in Poland. European Journal of Sustainable Development, 3(3), 165. https://doi.org/10.14207/ejsd.2014.v3n3p165