Feeding Patterns Of Resident Fishes In Thai Mangrove Estuary: Implications For Conservation And Sustainable Use Of Coastal Resources
Abstract
Seasonal dietary patterns, dietary attributes and trophic guild structure of 12 resident fishes inhabiting the Mae Klong mangrove estuary, inner Gulf of Thailand were examined.
Relative diet composition was described by the points method. Measurements were made also of gut fullness, vacuity index and diet breadth. Interspecific variations in diet were described by Bray Curtis coefficients and grouped, based on similarity coefficients, into eight feeding guilds. Of these, most diets were dominated by sergestid shrimp, zooplankton, phytoplankton, benthic invertebrates, shrimp, polychaete, fish and insect.
Zooplankton was the most common dietary item by all fishes examined (25.2%). Food intake was low for most fish with fullness values of 0.58 to 2.07. Vacuity index ranged
from 4.70 to 58.23 among species, with indices for most species >20. Overall diet breadth was relatively low among species and ranged from 0.13 for Aspericorvina jubata to 0.46 for Dendrophysa russelli. There was a clearly significant difference in the percentage composition of food items among seasons (P=0.001). The results from this study can serve as a reference for feeding ecology of fish in the Mae Klong estuary and in sustainable use and management of fisheries resources in the area.
Keywords: seasonal pattern, dietary attribute, trophic guild, resident fishes, Thai mangrove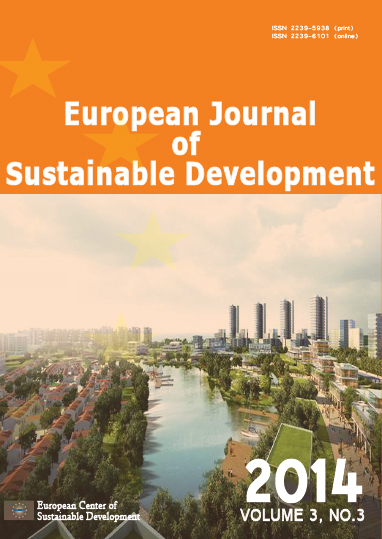 Downloads
How to Cite
Premcharoen, S. (2014). Feeding Patterns Of Resident Fishes In Thai Mangrove Estuary: Implications For Conservation And Sustainable Use Of Coastal Resources. European Journal of Sustainable Development, 3(3), 201. https://doi.org/10.14207/ejsd.2014.v3n3p201