Adopting Sustainable Behavior in Institutions of Higher Education: A Study on Intentions of Decision Makers in the MENA Region
Abstract
The aim of this study is to integrate the Protection Motivation and Habit theories to highlight and supplement the shortcomings of previous research. A systematic random sampling technique was employed to generate a sample of 1537 universities and colleges of MENA; a web questionnaire was emailed to the institutions, different analytical methods were used to analyse the data. The results show that (1) Protection Motivation Theory is valuable to apply specifically since it introduces the concept of coping appraisal, and (2) that Habit Theory is a suitable framework that can be employed to shed further insight on sustainable behaviour in higher education institutions. The findings both strengthen and expand previous knowledge on sustainable behaviour in higher education. Contrary to our expectations, habit does not moderate the relationship between all the dimensions of the cognitive process and the intention to adopt sustainability by decision makers.
 
Keywords Sustainability, Protection Motivation Theory, Habit Theory, Higher Education, Decision makers.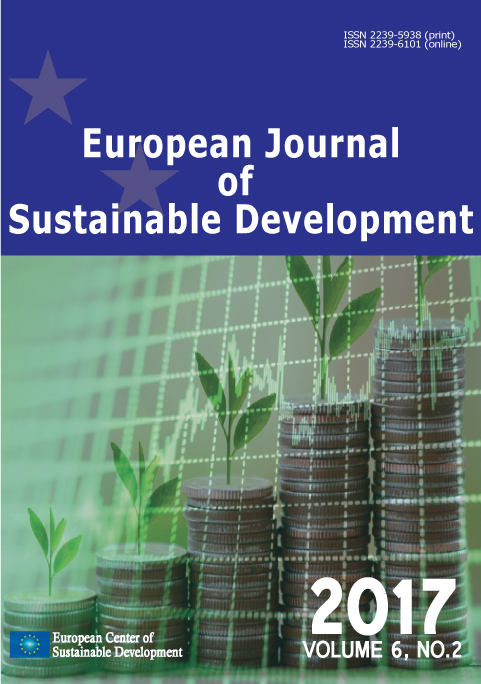 How to Cite
Almarshad, S. O. (2017). Adopting Sustainable Behavior in Institutions of Higher Education: A Study on Intentions of Decision Makers in the MENA Region. European Journal of Sustainable Development, 6(2), 89. https://doi.org/10.14207/ejsd.2017.v6n2p89

This work is licensed under a Creative Commons Attribution-NonCommercial 3.0 Unported License.
Authors of articles published in the European Journal of Sustainable Development retain copyright on their articles. Authors are therefore free to disseminate and re-publish their articles, subject to any requirements of third-party copyright owners and subject to the original publication being fully cited.  The ability to copy, download, forward or otherwise distribute any materials is always subject to any copyright notices displayed. Copyright notices must be displayed prominently and may not be obliterated, deleted or hidden, totally or partially.