An Investigation of University Students' Attitudes Toward Environmental Sustainability
Abstract
The adoption of pro-environmental behavior is critical to reduce negative environmental impacts
and move toward a more sustainable future. The role of higher education in training professionals to
protect the environment for the future is important. The aim of the study was to investigate
university students' attitudes toward environmental sustainability. In this descriptive study, 212
students studying child development and social work at the Faculty of Health Sciences at Kirikkale
University completed a questionnaire on demographic characteristics and the sustainable
environmental attitude scale. Descriptive statistics (e.g., frequency and percentage distribution,
arithmetic mean, standard deviation, etc.) and t-tests and an analysis of variance were employed to
analyze the differences between groups. The mean for university students' attitudes toward
environmental sustainability was ± SD = 3.28 ± 0.26. The results revealed that the students
studying child development ( ± SD = 3.31 ± 0.23) were more environmentally conscious than
those studying social work ( ± SD = 3.2 ± 0.30) and that knowledge and the level of awareness
affected environmental consciousness. It appears that the greatest challenges faced are the rapid
changes in knowledge about environmental issues. These changes need to be included in the
curricula of universities.
Keywords: Environment, Sustainable Environment, Environmental Sustainability, University Students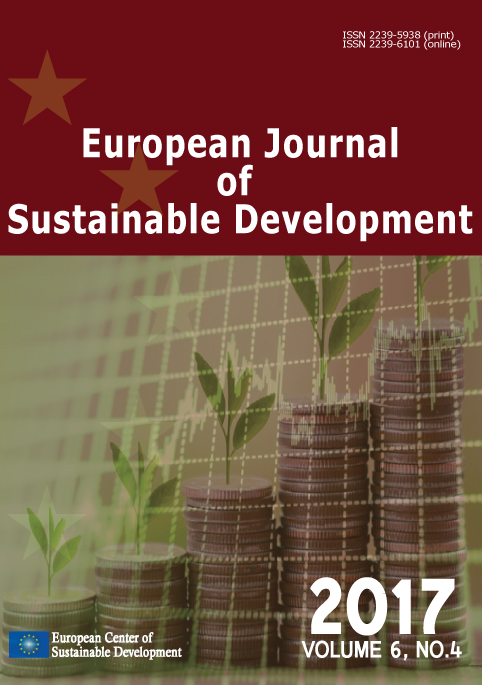 Downloads
How to Cite
Şahin, H., & Erkal, S. (2017). An Investigation of University Students' Attitudes Toward Environmental Sustainability. European Journal of Sustainable Development, 6(4), 147. https://doi.org/10.14207/ejsd.2017.v6n4p147