New Approaches to Providing of Environmental Management in Ukraine on the Way to Euro Integration
Olena Gulac

Valentyna Goshovska

Volodymyr Goshovskyi

Liudmyla Dubchak
Abstract
The article is devoted to the research of the latest approaches to providing of environmental management in Ukraine on the way to European integration. Based on the research, the necessity of introducing new approaches to providing of environmental management in Ukraine as one of the most important directions of European integration processes in Ukraine as a whole has been substantiated. The ways of improvement of separate directions of ecological management are offered, which are considered in the article through the prism of separate functions of ecological management and are considered innovative, in particular, for Ukraine. The European aspirations of Ukraine in the environmental sphere have been argued by the norms of the recently adopted Association Agreement between Ukraine, on the one hand, and the European Union, the European Atomic Energy Community and their member states, on the other. The prospective directions of introduction of the mentioned approaches in the modern practice of public administration of Ukraine, given the high environmental risks and threats faced by the entire world community, are indicated.
 
Keywords: environmental management, public management of the environmental sphere, new approaches to providing of environmental management, eurointegration, European integration processes in the environmental sphere.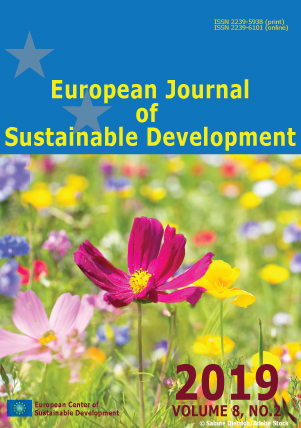 How to Cite
Gulac, O., Goshovska, V., Goshovskyi, V., & Dubchak, L. (2019). New Approaches to Providing of Environmental Management in Ukraine on the Way to Euro Integration. European Journal of Sustainable Development, 8(2), 45. https://doi.org/10.14207/ejsd.2019.v8n2p45

This work is licensed under a Creative Commons Attribution-NonCommercial 3.0 Unported License.
Authors of articles published in the European Journal of Sustainable Development retain copyright on their articles. Authors are therefore free to disseminate and re-publish their articles, subject to any requirements of third-party copyright owners and subject to the original publication being fully cited.  The ability to copy, download, forward or otherwise distribute any materials is always subject to any copyright notices displayed. Copyright notices must be displayed prominently and may not be obliterated, deleted or hidden, totally or partially.