Empirical Analysis of Financial and Non-Financial Risks of the Commercial Bank
Asie Tsintsadze

Vladimer Glonti

Lela Oniani

Tamar Ghoghoberidze
Abstract
Background: Activities of commercial banks are connected with numerous risks, the source of which is the internal and external processes of the bank. Objectives: Risk management science has been studying the origins of the risks, determining their impact quality and avoiding expected loss models from the 1950s. Method/Approach: Credit risk regressive analysis is based on the selection of effective factors, determination of their influence and prediction of future according to the correlation coefficient. Results/Findings: In the article, it is discussed the regressive analysis of operational risk. Conclusion: The effect of credit and operational risks on the financial results of the Bank is based on the results obtained and recommendations have been developed to increase risk management efficiency.
 
Keywords: credit risk, operational risk, regressive analysis, risk management, forecasting.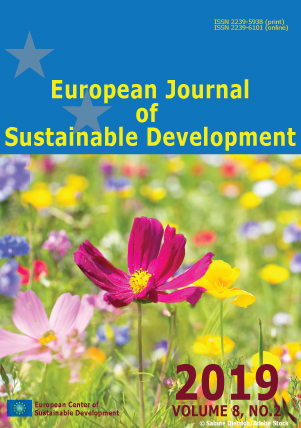 How to Cite
Tsintsadze, A., Glonti, V., Oniani, L., & Ghoghoberidze, T. (2019). Empirical Analysis of Financial and Non-Financial Risks of the Commercial Bank. European Journal of Sustainable Development, 8(2), 101. https://doi.org/10.14207/ejsd.2019.v8n2p101

This work is licensed under a Creative Commons Attribution-NonCommercial 3.0 Unported License.
Authors of articles published in the European Journal of Sustainable Development retain copyright on their articles. Authors are therefore free to disseminate and re-publish their articles, subject to any requirements of third-party copyright owners and subject to the original publication being fully cited.  The ability to copy, download, forward or otherwise distribute any materials is always subject to any copyright notices displayed. Copyright notices must be displayed prominently and may not be obliterated, deleted or hidden, totally or partially.