Environmental Policy Integration in Ukraine and the EU
Liudmyla Golovko

Olena Yara

Maksym Kutsevych

Tamara Hubanova
Abstract
The purpose of our scholarly work is to explore actual problems of harmonization of legislation of Ukraine in the sphere of environmental policy integration with EU law and development of proposals for the improvement of Ukrainian legislation. The state of environmental policy integration in Ukraine was assessed. Government strategies, programmes, concepts and plans in Ukraine and EU were analyzed. Based on comparison analysis differences and common problems of environmental policy integration in Ukraine and EU member states were determined and recommendations on the measures to be taken to ensure better integration of environmental policies in sectoral policies in Ukraine were made.
 
Keywords: environmental policy integration, sustainable development, strategic environmental assessment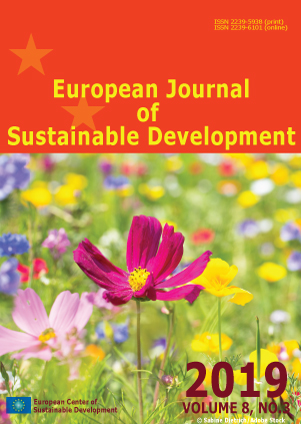 How to Cite
Golovko, L., Yara, O., Kutsevych, M., & Hubanova, T. (2019). Environmental Policy Integration in Ukraine and the EU. European Journal of Sustainable Development, 8(3), 221. https://doi.org/10.14207/ejsd.2019.v8n3p221

This work is licensed under a Creative Commons Attribution-NonCommercial 3.0 Unported License.
Authors of articles published in the European Journal of Sustainable Development retain copyright on their articles. Authors are therefore free to disseminate and re-publish their articles, subject to any requirements of third-party copyright owners and subject to the original publication being fully cited.  The ability to copy, download, forward or otherwise distribute any materials is always subject to any copyright notices displayed. Copyright notices must be displayed prominently and may not be obliterated, deleted or hidden, totally or partially.