Welfare Policy of Professors and Academic Excellence for National Development in Nigerian Universities: Cost Implication Analysis
Terungwa Azende

Luper Iorpev

Ivungu John Ayoor
Abstract
This paper is to explore the relationship between welfare of professors and academic excellence in Nigerian universities for national development with emphasis on cost implications. A survey design was adopted for this study. Pearson Correlation was used in analyzing the collected data to test whether or not there is any relationship between one set of variable and another. Findings reveal that lack of welfare for professors have a significant and negative influence on academic excellence and cost management in Nigerian universities. This paper recommends that universities should have a clear and standing policy on welfare of professors and other academic staff so as to enhance academic excellence and also save cost in running the university.
 
Keywords: Welfare Policy, Nigerian Universities, Professors, Cost Implication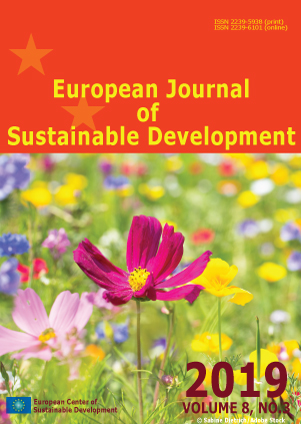 How to Cite
Azende, T., Iorpev, L., & Ayoor, I. J. (2019). Welfare Policy of Professors and Academic Excellence for National Development in Nigerian Universities: Cost Implication Analysis. European Journal of Sustainable Development, 8(3), 249. https://doi.org/10.14207/ejsd.2019.v8n3p249

This work is licensed under a Creative Commons Attribution-NonCommercial 3.0 Unported License.
Authors of articles published in the European Journal of Sustainable Development retain copyright on their articles. Authors are therefore free to disseminate and re-publish their articles, subject to any requirements of third-party copyright owners and subject to the original publication being fully cited.  The ability to copy, download, forward or otherwise distribute any materials is always subject to any copyright notices displayed. Copyright notices must be displayed prominently and may not be obliterated, deleted or hidden, totally or partially.