Groundwater Protection as an Essential Component of Water Management in the European Union in the Light of Modern Integration Processes: Legal Aspects of the Problem
Iryna Iefremova

Iryna Lomakina

Nataliia Obiiukh
Abstract
In the context of exacerbation of environmental problems that are global in nature, it is necessary to assess the opportunities and development prospects of environmental policy not only at the international level, but also at the regional European level. In this regard, the focus of our article is to consider the problem of protecting groundwater as a strategic natural resource and to analyze the practice of applying European directives on water quality and protection of groundwater in EU countries. In the EU, the basic legal framework for water protection is defined in the Water Framework Directive that determines the need to develop monitoring programs and basin water management plans to improve the quality of water in the EU by the member states. However, taking into account the fact that groundwater, especially drinking artesian water, is vulnerable to pollution, improvement of the legal groundwater protection system and the search for rational groundwater protection practices implemented in the EU countries are vitally necessary. Therefore, the paper aims to explore the ways of EU legislation development in the field of water resources protection, identifying the main areas of groundwater protection and analyzing the legal means used in certain EU countries, in particular, Austria, Germany, as well as identifying priorities and objectives for Ukraine on the way to integration into the system of European water legislation.
 
Keywords: EU legislation, groundwater, groundwater pollution, groundwater use, water management, water protection.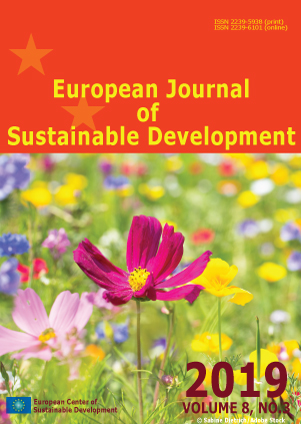 How to Cite
Iefremova, I., Lomakina, I., & Obiiukh, N. (2019). Groundwater Protection as an Essential Component of Water Management in the European Union in the Light of Modern Integration Processes: Legal Aspects of the Problem. European Journal of Sustainable Development, 8(3), 354. https://doi.org/10.14207/ejsd.2019.v8n3p354

This work is licensed under a Creative Commons Attribution-NonCommercial 3.0 Unported License.
Authors of articles published in the European Journal of Sustainable Development retain copyright on their articles. Authors are therefore free to disseminate and re-publish their articles, subject to any requirements of third-party copyright owners and subject to the original publication being fully cited.  The ability to copy, download, forward or otherwise distribute any materials is always subject to any copyright notices displayed. Copyright notices must be displayed prominently and may not be obliterated, deleted or hidden, totally or partially.