Cities for People: The Dependency & Impact of Automobile in the Life of City Dwellers
Abstract
Just like the plough breaking the grounds, many Nigerian cities have been transformed by the use of automobile. Cars have reshaped public realms and remodelled the nation's landscape, creating a bizarre unpaved erstwhile versions of centuries ago. The rising dominance of automobile is well revealed by their imprints on the urban land use patterns. However, the invention of the mass-produced automobile was a breakthrough in mobility and comfort; the modern consequences of its heavy use has led to a dramatic increase in accident death rates, the use of fossil fuels, social isolation, community disconnection, obesity, environmental pollution, urban sprawl and urban decay. This research, therefore provides an insight into some of the causes of over-dependence on automobile and its impact on the lives of city dwellers using Achara Layout in Enugu as a case study. The target goal is to proffer solution to remedy this obvious lack of foresight on urban transportation system. Using a descriptive research method that utilizes both primary and secondary data, the study through surveys, x-rayed why the increase in automobile dependence. Furthermore, it reveals that although the use of automobile is advantageous, the consequence of over dependency is far more overwhelming. The research results note that four fundamental policies will address successfully and specifically automobile dependency imposed by local conditions. It concludes that the gross accommodation of urban land to automobile be redressed and the expensive sterility of excessive motorized traffic be eliminated and advocates for an eco-friendly alternative means of city transportation.
 Keywords: Urban, Automobile Dependency, Planning, City Dwellers, Transportation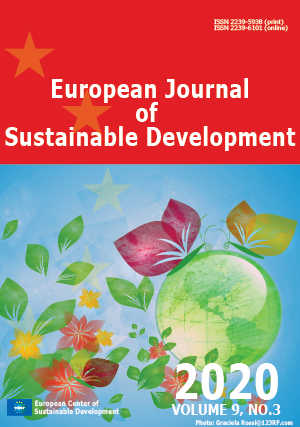 Downloads
How to Cite
Okeke, F. O. ., Okosun, A. E. ., Udeh, C. A. ., & Okekeogbu, C. J. . (2020). Cities for People: The Dependency & Impact of Automobile in the Life of City Dwellers. European Journal of Sustainable Development, 9(3), 157. https://doi.org/10.14207/ejsd.2020.v9n3p157
License
This work is licensed under a Creative Commons Attribution-NonCommercial 4.0 International License.