Efficiency of Social Protection of the Rural Population in the United Territorial Community
Abstract
Social defense exists in the developed countries of the world long time, and a large value is spared to the special attitude toward national minorities. The necessity of social defence purchased wide application in the end XIX and beginning of XX of century, includes the different types of defence of citizens in case of temporal loss of capacity for diverse reasons, unemployment, professional diseases, industrial accidents, pension system. This system is the complex of socio-economic and legal guarantees of every citizen of country. Social defence of population is called to create the normal terms of residence and stay of citizens in a middle a country, and is priority direction of realization of social politics.
Keywords: social protection, minimum payments, state policy, community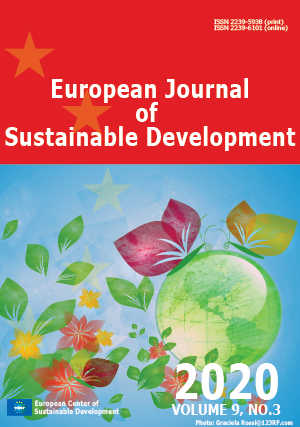 Downloads
How to Cite
Samborska, O. . (2020). Efficiency of Social Protection of the Rural Population in the United Territorial Community. European Journal of Sustainable Development, 9(3), 333. https://doi.org/10.14207/ejsd.2020.v9n3p333
License
This work is licensed under a Creative Commons Attribution-NonCommercial 4.0 International License.