Innovative Technology in Terms of Socio-Economic Value Diffusion: Accounting and Analytical Support
Abstract
The potential of using information technology for socio-economic development of the country and the life quality of every citizen is quite significant now in Ukraine. The aim of the article is to study the modern possibilities of using information technologies, namely, adaptations of accounting and analytical support in the conditions of diffusion of socio-economic values to increase the welfare of the population. The methods of divergence and convergence, rationality and irrationality were used in the work - to search for effective tools for regulating national and international financial relations in Ukraine in the context of the challenges of globalization; methods of analysis of cognitive data – to determine the forms and directions of digital hygiene in Ukrainian society; conceptualization of consequences and the duality of assessing results - to illustrate the reflection of the current state of development of the analytical basis and levelling Ukraine's dependence on financial hedonism, which currently prevails in the world. Specific areas of application of innovative technologies are proposed, such as tourism services and hotel and restaurant business. Ensuring the competitiveness of national industries as a result of their use of innovative behaviour and the development of new technologies and the accumulation by economically active subjects of innovative knowledge and empirical skills ensures the introduction of new information technologies in various spheres of human life, with no exception of tourism and restaurant industry. The modern industry of restaurant and tourism business has been actively using specialized software and global computer networks in recent years to increase the efficiency of the placement and search of information, the activation of promotion and services marketing, and the improvement of the quality of customer service, as this is an important condition for the quality of such services. Thus, integration aspirations in the global socio-economic system should be supplemented by facilitating access to advanced information technologies within the country itself. This is a necessary condition for the process of diffusion of socio-economic development and innovative knowledge that should be accumulated in the country.
Keywords: innovation, technology transfer, welfare, socio-economic development, accounting and analytical support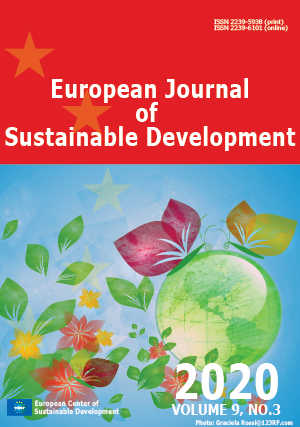 Downloads
How to Cite
Druzhynina, V. ., Likhonosova, G. ., Lutsenko, G. ., & Kushal, I. . (2020). Innovative Technology in Terms of Socio-Economic Value Diffusion: Accounting and Analytical Support. European Journal of Sustainable Development, 9(3), 476. https://doi.org/10.14207/ejsd.2020.v9n3p476
License
This work is licensed under a Creative Commons Attribution-NonCommercial 4.0 International License.