A Conceptual Framework for Developing of Regional Innovation Ecosystems
Abstract
The article highlights a conceptual framework for developing of regional innovation ecosystems at the NUTS 1 level. The authors' definition of the innovation ecosystem of the region has been given. The ranking of EU-27 NUTS 1 regions by R&D intensity indicator allowed identifying most innovatively active regions and draw the conclusion about their concentration in three science-intensive macro-clusters. The conceptual model of the regional innovation ecosystem of Ukraine has been suggested taking into account features of its current territorial division. The key dimensions of the model include the goal of the ecosystem, its actors, the environment and the system of internal and external interrelationship. Considering the specifics of regional governance in Ukraine, it was substantiated that it is advisable to use the existing network of regional research centres as institutional tools to support regional innovation ecosystems at NUTS 1 level. It is suggested to create special coordination centres, in particular, regional innovation councils at NUTS 2 level.
 Keywords: innovation ecosystem, innovation process, region, economic area, NUTS, actor, stakeholder, institutional tool, European Union, Ukraine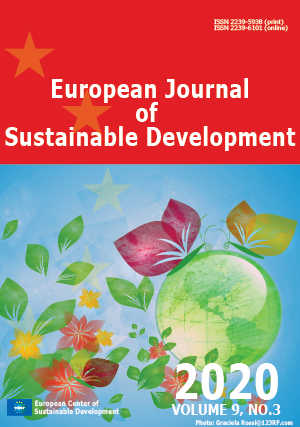 Downloads
How to Cite
Pidorycheva, I. ., Shevtsova, H. ., Antonyuk, V. ., Shvets, N. ., & Pchelynska, H. . (2020). A Conceptual Framework for Developing of Regional Innovation Ecosystems . European Journal of Sustainable Development, 9(3), 626. https://doi.org/10.14207/ejsd.2020.v9n3p626
License
This work is licensed under a Creative Commons Attribution-NonCommercial 4.0 International License.