The Sustainable Project Management Utilization in French Wineries While Adapting to Climate Change
Keywords:
Climate changes, Sustainable project management, French wineries, Green growth, Project management, Sustainability
Abstract
Nowadays, the issue of climate change has attracted attention in various fields. The rise of global temperature makes humanity must take note of environmental protection and the Sustainability of different domains. The planting of vineyards and the production of wine have also been greatly affected. Since the Sustainable Development Goals (SDGs) officially became the 17 development goals set by the United Nations in 2015, sustainable project management development is at the forefront globally. In recent years, the wine industry has developed rapidly worldwide. However, global climate change is a challenge for French wineries if they want to maintain their high-quality wine style. Therefore, in order to cope with the impact of climate change on wine, wineries have begun to implement sustainable development project management in all aspects. Especially French wineries that make much account of Sustainability in this respect. This paper proposes the one aspect – Wine Production of CWW Conceptual model that can be used in the French wineries, Four Drivers of Sustainable Project Management Implementation Model to interpret the main drivers that impact project management implementation in the wine industry. Using mixed-method research approach, qualitative research with interview-based analysis is the primary method, as well as surveys used to interpret the elements of sustainable project management necessarily utilizing in French wineries that would help them to achieve green growth.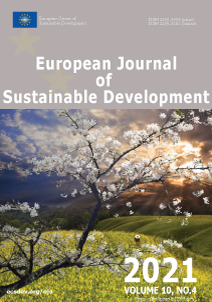 Downloads
How to Cite
Zhang, R. ., & Carboni, J. . (2021). The Sustainable Project Management Utilization in French Wineries While Adapting to Climate Change. European Journal of Sustainable Development, 10(4), 85. https://doi.org/10.14207/ejsd.2021.v10n4p85
License
This work is licensed under a Creative Commons Attribution-NonCommercial 4.0 International License.