Linking Sustainable Urban Development With Town Planning Through Proximity Trade
Keywords:
Proximity trade, Urban development, Town planning, Sustainable mobility, Urban metabolism, Social cohesion, Urban morphology
Abstract
Losses from commercial activities reflect the decline and deterioration of the downtown, the urban fabric and the social structure of the cities. The dependence on motorized vehicles has grown significantly among consumers who must move to meet their daily needs. Such a process marginalizes vulnerable populations by promoting urban lifestyles less sustainable. Proximity trade is therefore becoming increasingly important for those groups because it encourages dynamism among distinct urban areas and reduces the use of vehicles. This urban model addresses a relevant issue as universal accessibility that allows residents to enjoy an available city and move freely without encountering obstacles. The major role played by trade in the creation of wealth and urban fabric demands the integration of commercial areas provisions into urban policy guidelines. In this context, the study aims at developing a set of indicators that link proximity trade with the promotion of sustainable urban development and the model of compact city to be included in Spanish urban planning guidelines. Sixteen indicators were thus formulated around five areas of action: urban morphology, urban complexity, sustainable mobility, urban metabolism and social cohesion.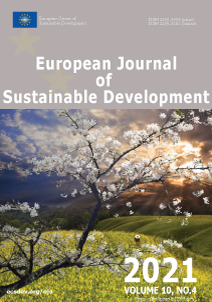 Downloads
How to Cite
Diaz-Sarachaga, J. M. . (2021). Linking Sustainable Urban Development With Town Planning Through Proximity Trade. European Journal of Sustainable Development, 10(4), 121. https://doi.org/10.14207/ejsd.2021.v10n4p121
License
This work is licensed under a Creative Commons Attribution-NonCommercial 4.0 International License.