Shifting Microeconomic Indicators into Solving Macroeconomic Issues
Keywords:
macroeconomic indicators, development, growth, corporate governance, sustainability
Abstract
Defining relations can be built between the state and the corporation on its capitalist structure with observable results in increasing economic performance. The idea of ​​sustainability results from Schumpeter's analysis of "healthy" economic growth of about 2% per year (according to the analysis between 1890 and 1940, including the unsustainable pre-crisis growth of 3.8% / year between 1890 and 1929). Basically, the relationship between government action and corporate governance can be likened to the relationship between urban management and business management (the ultimate goal is to attract investors / stakeholders to the city / corporation by offering advantages over other areas with similar characteristics but keeping the sense of economic logic). to maintain a competitive environment over the local government apparatus and an effective relationship with the inhabitants of that city, respectively, to maintain an organizational culture that resonates with the employees and with the initial purpose of the business), thus this research work having a character of rationalization of the economic environment of an emerging state through an integrated corporate governance approach to the issue.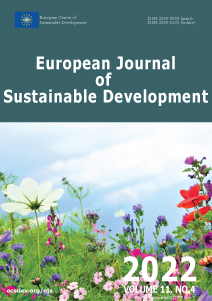 Downloads
How to Cite
Bran, F. ., Bodislav, D. A. ., Popescu, M. L. ., & Potcovaru, . A. M. . (2022). Shifting Microeconomic Indicators into Solving Macroeconomic Issues. European Journal of Sustainable Development, 11(4), 72. https://doi.org/10.14207/ejsd.2022.v11n4p72
License
This work is licensed under a Creative Commons Attribution-NonCommercial 4.0 International License.