ESG Rating and Market Valuation of the Firm: Sector Approach
Keywords:
ESG, ESG rating, Tobin's Q, financial performance, sustainable finance, non-financial information
Abstract
The main aim of the study was to assess the impact of the ESG rating of the company on its market valuation. The research sample included stock companies of real economy sectors of financial markets of European Union Member States in years 2018-2020. The research hypothesis stated that across financial markets of European Union there are sectors in which there is a strong and positive correlation between high ESG rating of the company and its market value. The paper analysed selected measures of descriptive statistics of used variables, Pearson correlation coefficient, and constructed an Ordinary Least Squared model assessing the impact of ESG rating on the surveyed companies' market value. Both the composites of ESG rating (ESG and ESGC) and the individual components (E, S, G and C) were analysed. Financial data and ESG ratings were extracted from Refinitiv Eikon database. Undertaken research proved ESG disclosure and rating to be the determinant of the companies market value in specific sectors, while companies controversies appeared to be the destructors of market value of companies across all sectors. Undertaken study adds new insights to the debate on the relation between companies ESG and financial performance by applying sector approach to the analysis.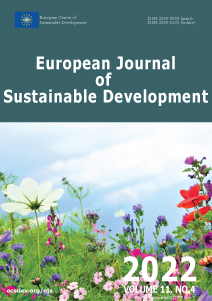 Downloads
How to Cite
Gawęda, A. . (2022). ESG Rating and Market Valuation of the Firm: Sector Approach. European Journal of Sustainable Development, 11(4), 91. https://doi.org/10.14207/ejsd.2022.v11n4p91
License
This work is licensed under a Creative Commons Attribution-NonCommercial 4.0 International License.